News
Important Ticket Information: Columbus vs Woodville Friday November 20, 2020 at 7:30 p.m. Merrill Green Stadium, Bryan, Texas 3450 Campus Drive Bryan, Texas 77802 ......
John David Risinger signs on the dotted line and makes it official. He was elected on November 3, 2020 and was officially sworn in and welcomed by other members of the board at Monday night's......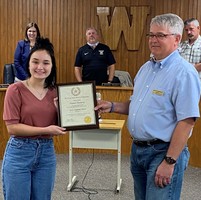 WISD High School Senior Payton Flannery was recognized at the Woodville ISD Board of Trustees meeting on Monday night. Payton was awarded the 2020 Student Heroes Award for State Board of Education......
SEE ALL NEWS