Message from the Principal's Office: All items currently in the lost in found will be donated to a local shelter if they are not claimed by Friday 3/29/2019. Thank you!

Due to several teachers and students being out sick this week, we will have to postpone the Valentine's Day silent auction and bake sale scheduled for tomorrow. We will regroup and reschedule when we return from Winter Break. We apologize for any inconvenience!

CHEER ANNOUNCEMENT! 6th & 7th graders who are trying out for cheerleader: Please remember that your tryout fee of $10.00 is due tomorrow by 3:30. Practice begins this Thursday from 3:30-5:00 in the middle school gym. Additional practices are: Monday 2/11, Tuesday 2/10, & Wednesday 2/13 Tryouts are Thursday 2/14 beginning @ 4:00

WMS REMINDER: As stated in the student handbook at the beginning of the 2018-2019 school year, students are required to have clear or mesh backpacks only.

On Monday, January 14th, 2019 7th and 8th grade students will be attending the Jason Project Presentation at Lamar University. Buses will leave at 8:30am and return at 2:45pm. Please remember to send money or a sack lunch for your student if you did not request a lunch from the cafeteria on the permission form.

Woodville Middle School Vision Woodville Middle School will work to create a learning environment that provides opportunities for students to be critical thinkers, problem solvers, and life-long learners. In an effort to support our Campus Improvement Plan, we will be sharing ways that parents can assist their student, as we work together to promote high achievement in Middle School. The first order of business is to instill a series of successful habits. One of the most important habits is to be proactive. As a parent, you can be the agent of change in your family as you help shift responsibilities to match your principles and values as a family. As a student, you will want to take responsibility for yourself. At WMS, we will be working with students to use "I" statements to help them accept responsibility for their actions. Statements such as: I'm a responsible person (home and school) I take initiatives I choose my actions, attitudes, and moods I don't blame others for my faults I do good things, even when no one is around Please join us as we work to help your student achieve success in school, and in life.

YOU'RE INVITED Tuesday December 18, 3:45-6pm Woodville Middle school would like to invite the parents of our students to meet our staff on Tuesday December 18 @ 4:30 in the Middle School Gym. We will kick things off at 4:45pm with a Title 1 meeting in the foyer that should only take about 10 minutes. Please bring your family to enjoy food, drinks and fellowship. Additionally, we will have a bounce house for the younger children (elementary) and an obstacle course for the older children (middle school). Our wish is that all of our students and their parents take this opportunity to come and meet our wonderful teachers and staff. Here is a schedule of events: 4:30pm Parents will arrive. 4:30pm Title I Money Disclosure 4:45-6pm--The gym will be open for food, drinks and entertainment, as well as discussion with teachers. The teachers will be at grade level stations– please limit discussion to upcoming assessments, spring events, good study habits, classroom expectations and good communication (Please ask about our Remind App and our tutorial program ). If you have any questions, please don't hesitate to stop by our office. I look forward to a fun and relaxing time for all!

We have kicked off our 10 DAYS OF CHRISTMAS celebration at WMS with a fantastic breakfast buffet provided by our Student Council! A Big Jingly Thank You to Mrs. Champagne, Student Council Students and Parents!!!!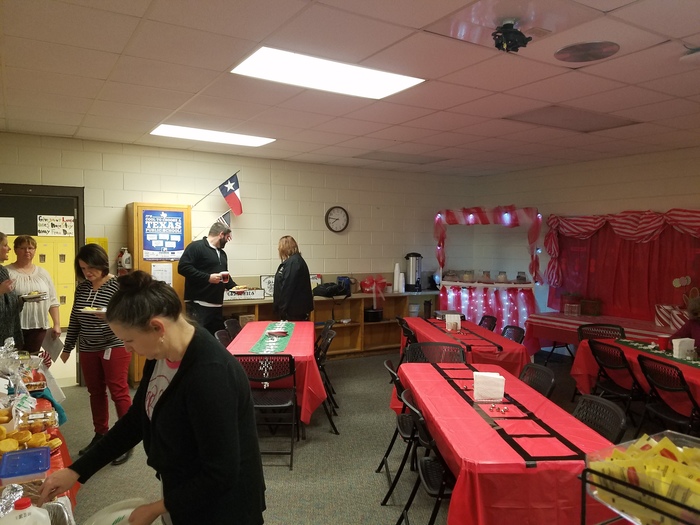 Important Football Update - NO GAMES Thursday night. JV game is cancelled, Middle School games will be on Tuesday at 6:30 IN WOODVILLE, JV will suit up with Varsity on Friday night.

Woodville Middle School picture day is next Tuesday, October 2nd. Please have your student pick up an order form in the office if they did not receive one.

WMS #eaglestrong T-Shirts ($15) on sale NOW!! Long Sleeve T ($20) & Hoodie ($25) orders due 9/14/2018!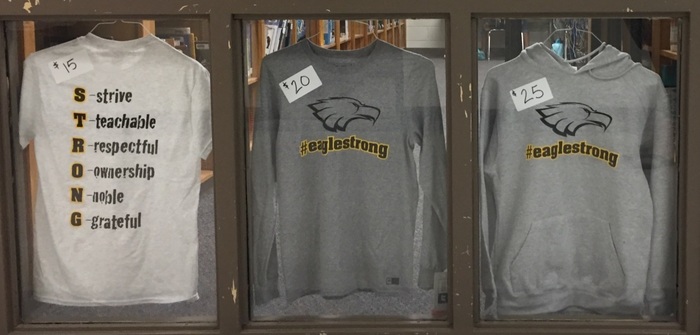 WMS Back-to-School News For all new and returning students 6th GRADE - ORIENTATION / MEET & GREET Register/Get your schedule/Meet your teachers MONDAY, 8/13/2018 - (WMS Library) Visit anytime between 5:30pm-7:00pm 7th & 8th GRADE - REGISTRATION Register & Get your schedule TUESDAY, 8/14/2018 & WEDNESDAY, 8/15/2018 Visit anytime between 9:00am-3:00pm (WMS Library)

Beginning with the 2018-2019 school year, Woodville ISD will require that students only use clear or mesh backpacks. This policy will be enforced district wide, grades pre-K through 12th. The clear or mesh backpack policy only pertains to the backpack itself. Contents inside the backpack such as pencil boxes, notebooks, glasses cases, and pouches for makeup or other personal belongings are still permitted.